Schneider
Grenoble, France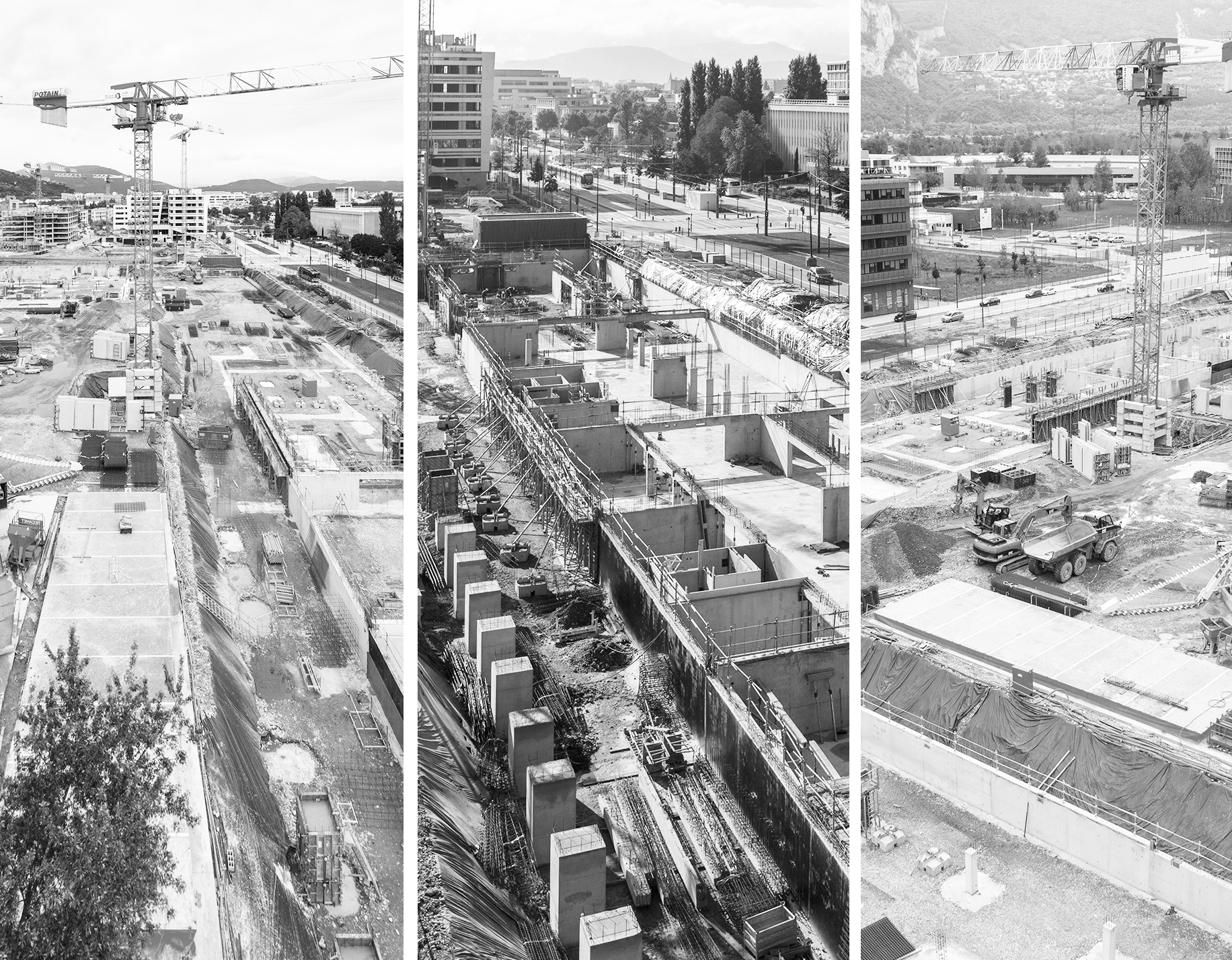 Intencity is a project that encloses the main headquarters of the Innovation Department of Scheider Electric located in the scientific compound of Presqu'Île of Grenoble. This ambitious building connects urban life and nature in order to offer different work environments. It combines life quality, economic performance and scientific dynamism is a pioneer in terms of energy performance.
| | |
| --- | --- |
| Client | Schneider Electric France |
| Owner Representative | IPS Francia |
| Project Management | AIM (Audit Ingénerie Management de Projet) |
| Project Definition | Groupe-6 |
| Interior Design | STUDIOS Architecture |
The project seeks to express the values of the company: sustainability, innovation and equality. On a neighborhood scale, it wants to reinforce the urban dimension of the area, promoting the liveliness of the avenue on where it is located. On a city scale, it stands out as a landmark, capturing other's attention with its singular volume, its bronze color and the futuristic design of the wind turbines. The project is anchored in the landscape, it has self-identity and it can be easily distinguished by its architecture.
It wants to blend in between nature and the city, opening itself to a park as a symbol of sustainability and integration with the environment, while its connection with the city is reflected through its architecture as a symbol of innovation and mobility. The building's facades reflect these parameters that are in constant interaction with the environment.

A skin formed by an anodized aluminum cladding combined with glass dresses the mass of the building. As a result of wanting to connect nature and architecture, vertical gaps are opened creating a rhythm in the façade through the structure and provoking a sensation of permeability.
On the nature side, the façade facing the park highlights the company's values of innovation and mobility. The building offers a living facade reinforced by a series of large stairs that act as the main axis of the building. The heart of the project opens to the garden, the river and the mountain, which are translated inside the building with the incorporation of interior patios.
On the city side, the building manifests itself with its dimension and urban scale as a large building that participates in the life of the avenue. Its facades with regular rhythms, dressed in a bronze-colored epidermis, express the sustainability of the company and its establishment in the local life.
The building aims to be an example in terms of energy production and renewable energies. It integrates the latest technologies: photovoltaic panels on the roof, heat pump on geothermal energy, solar thermal, gray water recovery, wind turbines on the roof, etc.).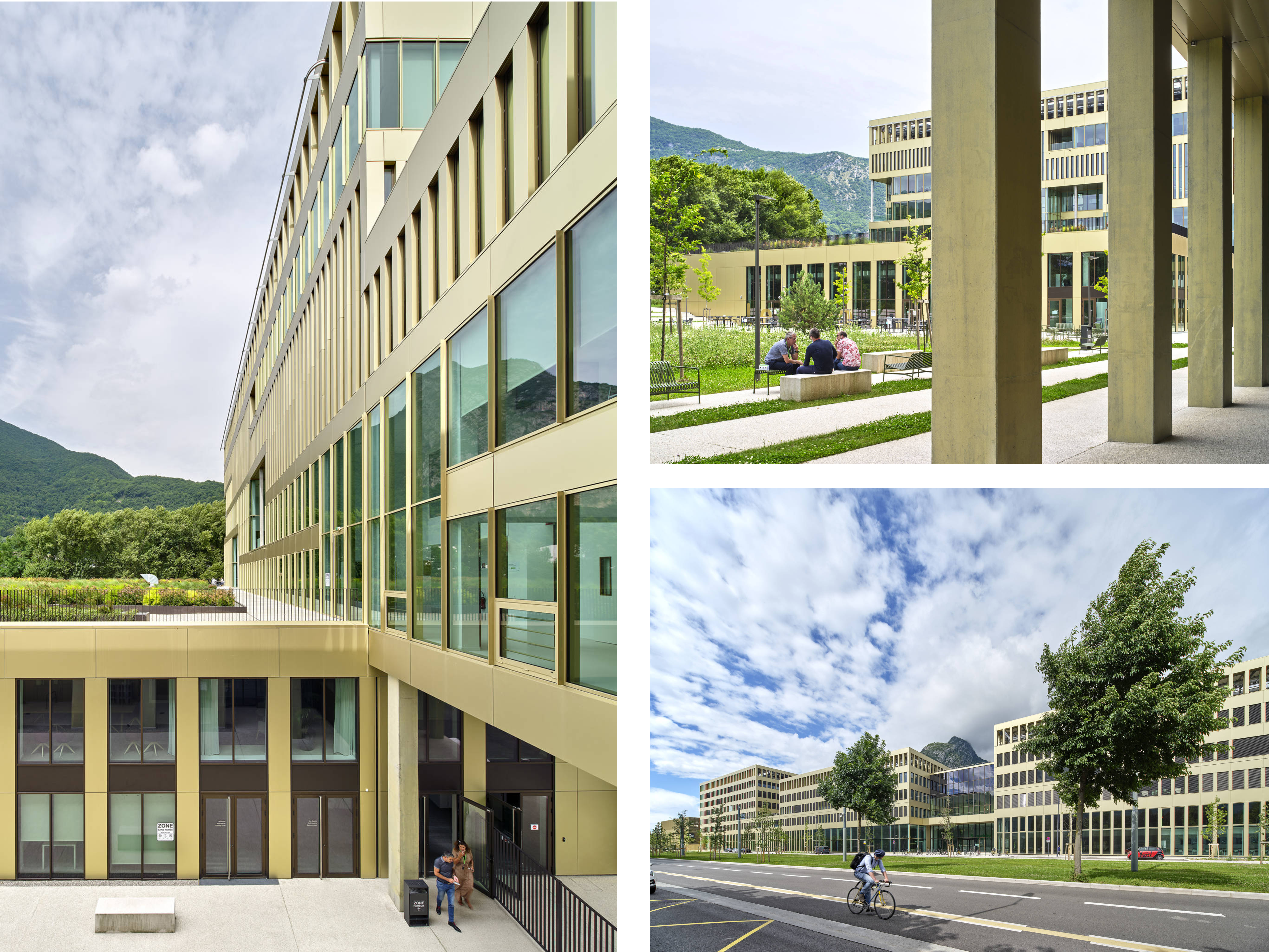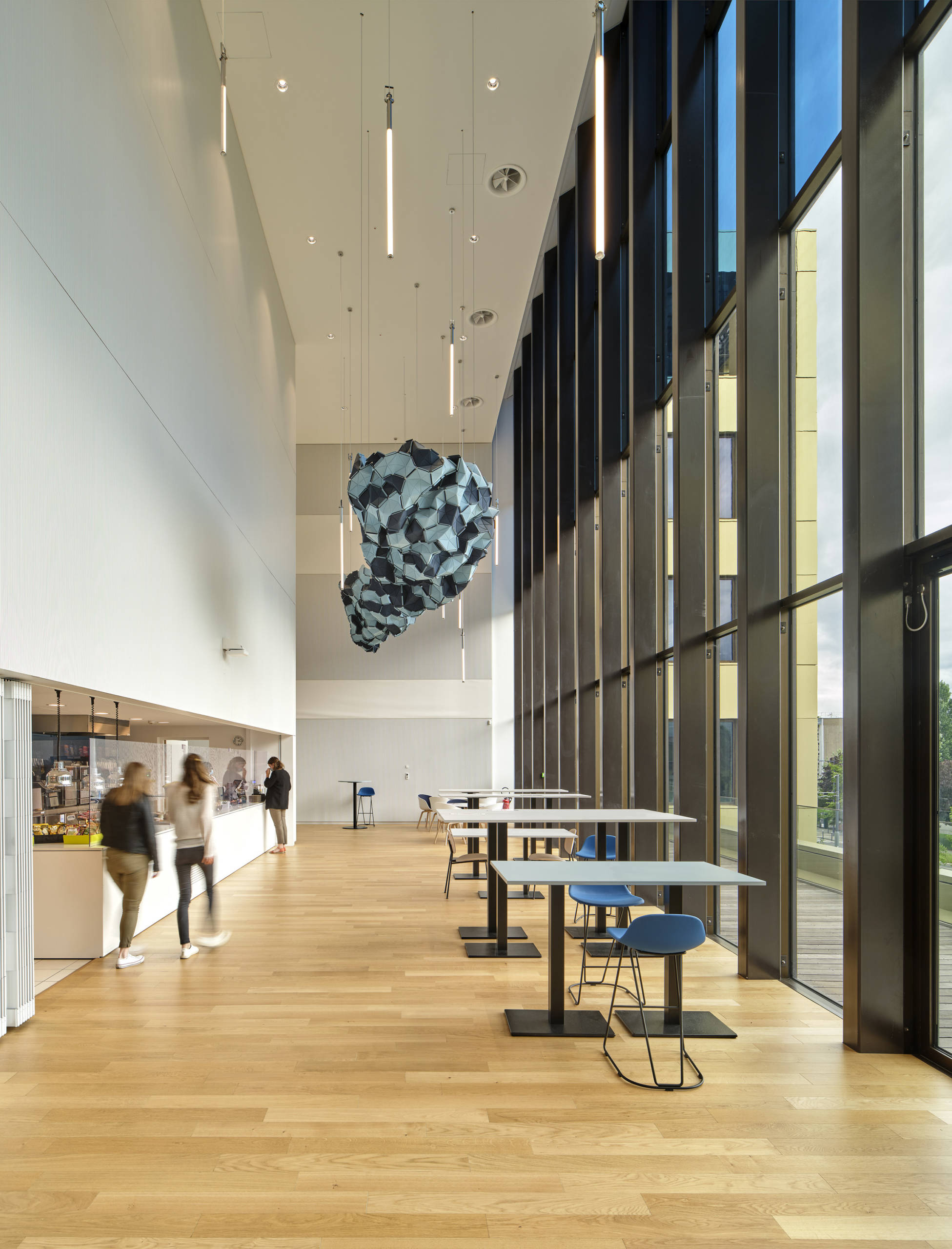 The four volumes arranged in an L shape embrace the heart of the project, a garden that unites the environment and the city. Without creating barriers between the two worlds through a permeable façade, it succeeds in upholding the values of Schneider Electric. An architecture worthy of the status of the site.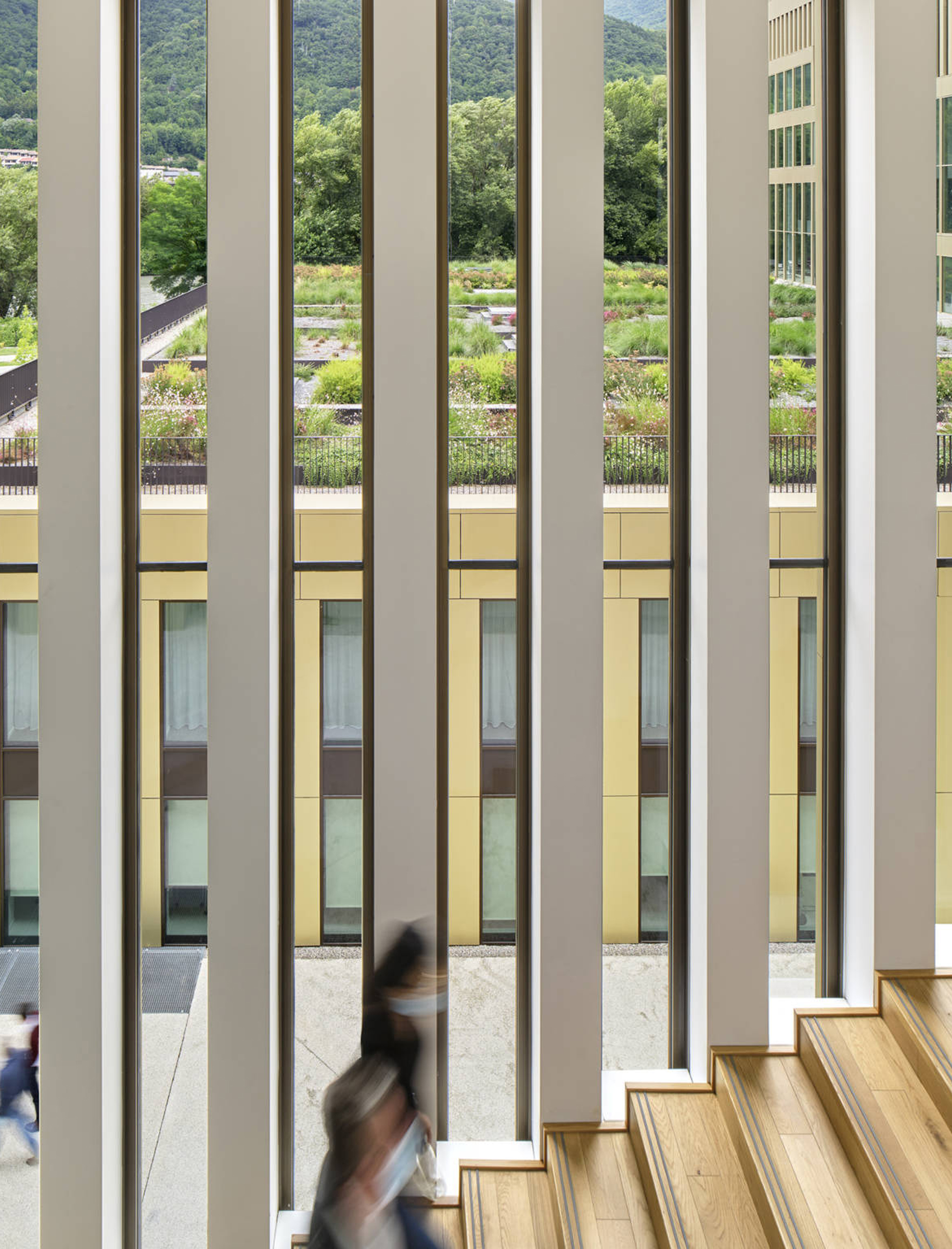 It is a true display of innovation in terms of energy performance. Therefore, the offices of the Schneider Electric Innovation Department offer a variety of work environments and living spaces, articulated around a "main street" that stimulates proliferation and exchange